Teardrop Banners and Flags
Teardrop flags are a completely portable system that can be put together in minutes and can be put to use indoors or outdoors, depending on your preference. Images are printed on both sides of our teardrop banners, so it doesn't matter which side is seen Read more

Overview
Double-Sided Graphics
As the graphics for these flags are double-sided, you don't have to worry about 'show through'. This is because both sides will show the 'correct' image and any text will appear as normal (meaning that it can be read from left to right). Each graphic is printed on a separate piece of material with a blockout layer placed between them, ensuring that the true image is shown on either side.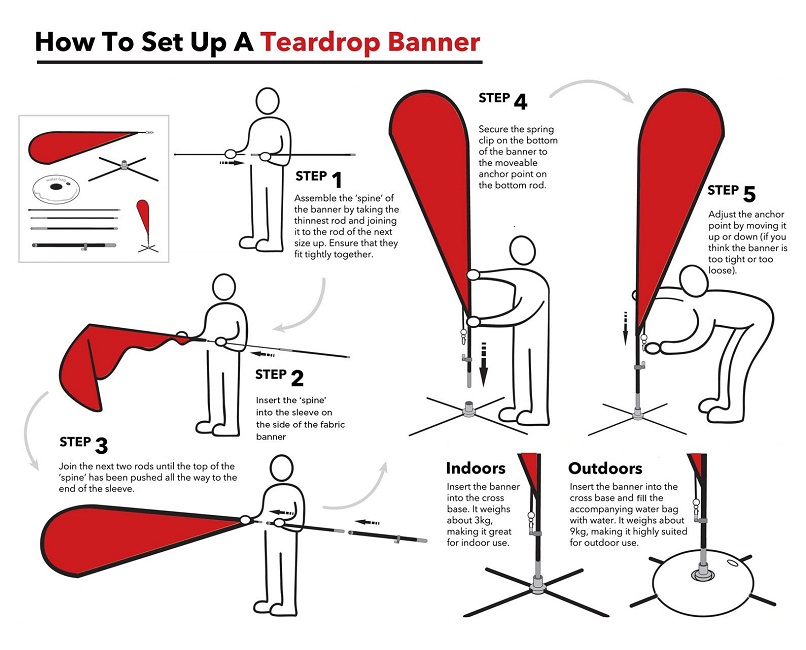 Base Options
These flags are also available with a choice of two feet options to ensure that they cannot be knocked or blown over – spike or cross feet with a water tank base. This also ensures that the banner will suit a variety of surfaces and environments.
The spike base is perfectly suited to outdoor environments (such as nature strips and sports fields). It weighs about 1kg and has a swivel component, so that the teardrop banner will turn with the wind.
The cross feet base is ideal for harder surfaces (such as an internal floor or a footpath). It comes with a tank that you can fill with water after the base has been positioned to ensure that it doesn't tip over.
Latest Printing Technology
We use the latest in fabric printing technology to provide vibrant graphics that will withstand the Australian climate with ease. After all, ensuring that your flag will last more than a few weeks outdoors is essential.
Flexible Poles
To ensure that they rotate gently in the wind without being damaged or even broken, all our custom teardrop flags in Australia are fitted with flexible fiberglass poles. These are the best on the market and won't creak or snap under pressure like some of the cheaper options available.
Interchangeable Graphics
The graphics can be easily changed when required, which means that the same teardrop banner can be used with multiple graphics. This ensures that the teardrop flag design will suit every event. Please contact us if you would like to order additional teardrop flag and banner graphics.

FAQ's

I'm confused about which type of base I should order?

What sizes are available?

What does the back of the banner look like?